Custom built ASP driven web site with eCommerce, Customer Support System, and web form functionality. The site employs Adobe Dreamweaver templates that allow the site admin to easily edit the site with minimal HTML knowledge using Adobe Contribute.
The Brief:<
The Counting Technologies brand image is not well represented by the current web site. We wish the new site to have a clean, professional, and elegant visual appearance. The new site should provide eCommerce capability with online shipping calculation using UPS and Credit Card processing using Authorize.net. We would also like a support section where customers can browse FAQs, submit trouble tickets, and download updates.
The Concept:<
Counting technologies had recently undergone a brand remake with a new logo and company colors. The web site design continued upon the visual style of the logo with heavy use of graphics to make the site visually interesting. A pure white template was created, which used blues and grays from the logo, and orange highlight color.
The Solution:<
Due to existing server limitations Active Server Pages (ASP) were employed for dynamic content areas such as the store and support areas. The rest of the site used static HTML pages constructed using Adobe Dreamweaver templates so that they could be easily editing by non-technical editors using Adobe Contribute.
Home Page Hierarchy<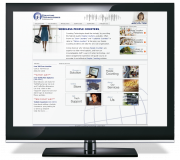 [1]Counting Technologies wished to promote their end-to-end counting solution rather than selling individual counters. Counting solutions received prime real estate on the home page with an introductory paragraph in the banner area and three options to learn more about different solutions. The lower half shows recent news and icons linking to the main content areas of the site.
Solution Overviews with Links to Products<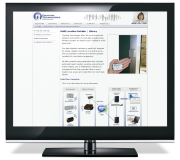 [2]Secondary pages expand upon the top navigation with a breadcrumb of current page location and a left column sub menu system. Each solution employs an interactive Data Flow Overview that reveals how each component interacts. Each item in the overview highlight when the mouse is positioned over it and opens a modal window with relevant product information when clicked.
Help me Choose a Solution<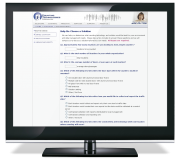 [3]Many customers do not know which counting solution is best for them. To help them make an informed decision this simple online questionnaire was created. Users answer eight questions and provide their contact information. The form information is stored in a database and the sales department is notified by email when a user submits the form. The sales team then contacts the customer to discuss the best solution for them.